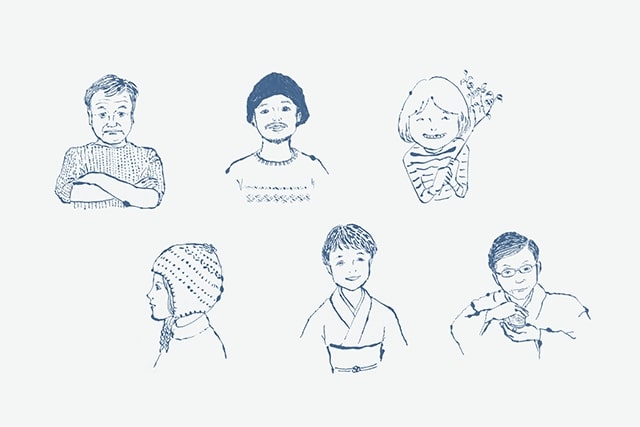 平野 恵理子 Eriko Hirano
Illustrator & essayist
 It has been six months since I came to live in a village in a valley deep in the mountains.
Densely surrounded by trees, the green lushness in summer makes me feel as if my entire body would turn green, and then in winter, I feel myself sinking in the overwhelming amount of fallen leaves.
Nearby farmers and neighbors with spacious yards often burn piles of fallen leaves and dry grass.
The smell of a bonfire drifts into the house out of nowhere.
It is an aroma therapy experience offered in the mountain village in a mountain village.
This was not a part of daily life in the city.
It is quite soothing to be able smell a bonfire during work. It is a bonus that I had not unexpected until I really started to live here.
 Fire is a feature, and perhaps a privilege of civilized humans.
We cannot do without heat, which we use to cook, stay warm, and have light.
Paradoxically, however, the more civilizations develop, the more distant we become from real fire.
Living in the city, we are accustomed to seeing the blue flame of our gas stoves and the flame of the candle we light in our Buddhist altar every morning.
We no longer use flames for light and flames are not visible in most of our heating equipment today.
No flames that sway randomly, no smell and no smoke.
Yet, people seek fire.
When we have a barbeque with guests, everyone wants to tend the fire.
Everyone takes a place in front of the furnace with a rod in hand, determined not to give their space to anyone.
Somehow, it is fulfilling just to gaze at red flames.
Each person lets time go by, sitting around the fire.
See, everyone is attracted to flame.
The smell of a bonfire always reminds me of something from the past.
Perhaps, the memories of ancient humans who lived in pit dwellings and used fire in their daily lives have been engraved in the modern human.
Watching everyone looking drowsy around the furnace, I could not think of any other explanation.
Not going as far back as the time of pit dwellings, perhaps we are reminded of days when burning fire was still an ordinary part of our daily lives – those days when we were used to seeing bonfires on farms close by, household garbage being burnt in our domestic incinerators, or hot tubs fired with wood.
That nostalgic smell of a fire burning is overwhelming.
Fire and humans are indeed inseparable.
It may be matter of preference, but the kerosene stove I purchased has to be ignited manually with a match, and I still use mosquito coils instead of electronic mosquito repellers. The fragrance of mosquito coils are pleasant too.
Feeling drowsy as I wrote, I realized that the smell of a bonfire was drifting in from my neighbor's house.
Written by Eriko Hirano, illustrator and essayist Contributes illustrations and essay on life, kimono, travels, and mountain-hiking to various media. Major publications include: Itoshii wa no kurashi (Dear Japanese-style life): Tezukuri de tanoshimu nihon no mainchi (Enjoying a handmade life in Japan) (Village books); Happiness kibun de yamaaruki (Mountain-hiking in happiness) (Yama-kei Publishers)
Essay 05 Memories of the smell of fire: Eriko Hirano