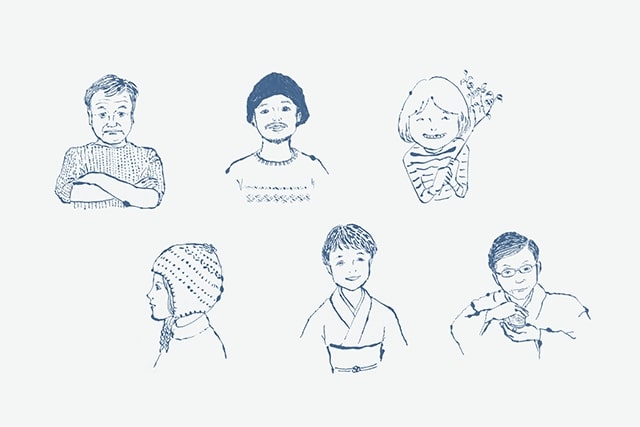 野川かさね Kasane Nogawa
Photographer
 Just before the rain.
The moisture in the air drift into my ears and nose and fill my entire body.
"The smell of rain,"
I would say aloud to myself.
Then, taking a deep breath, I would fill my lungs with air and breathe it out. Before long, it would really start to rain.
I loved the smell of rain since I was a small child.
I recall that stronger than the sense of gloom or unrest over the rain coming after the smell, was the excitement of being able to feel the rain creeping in. It was as if I had a special power to foresee the unknown future.

 It was in my late 20s that I started mountain-climbing to take pictures.
Mountains, which had not been a part of my life since my childhood memories of climbing mountains on school excursions, were sensational subjects for me.
At first, I was attracted to the beauty of the silhouette of mountains – their grand view seen from a distance.
Gradually, I came to be inspired by the rocks, trees, moss, and icicles, as well as artificial objects, such as signposts and cabins that I would encounter as I walking along the mountain trail.
Eventually, I came to think that each of these objects created a "mountain," and that by collecting, or photographing them, I would be able to portray mountains. Since then, I go into the mountain to collect its pieces whenever I have the time.
My photographs, which have been taken in a style that "captures what I encounter on my walks just in the way I find them," are not always pictures of mountains on sunny days.
Some photos are taken in the rain or on cloudy days.
Rather, I tend to take more photographs on those grayish days – blurry pictures of a mountain or its pieces veiled in fog or clouds.
Looking at these photographs, most people laugh (all the more when the person is very familiar with different mountains), saying, "I can't tell which mountain this is.
I don't see a mountain in it." I have also been exposed to criticism.
"This is no picture of mountain."
And I would snap back,
"This is indeed a mountain, too,"
Sometimes, I would wonder to myself,
"Why do I choose mountain landscapes in the fog or on cloudy days to capture with my camera?"

 I tried to recall the emotions that ran within me when I took the photographs.
It was that sense I feel in the mountains of the fog, mist or clouds dominating the entire atmosphere, enveloping the smell of the trees, rocks and soil.
Then it came to me.
It resembled that sensation I felt as a child of the "smell of rain penetrating through my body." In town, I would feel the smell of rain enter my body and spread inside, but in the mountain, it felt more like I was gradually enveloped in the smell and I could not tell whether it was inside me or on the outside.
Then I blended into the scene around me.
It is that very moment that I click my camera.
It is an act of capturing in a photograph not only what was visible before me, but also the invisible presence, or the entire sensory experience, just like when I was excited over my "special power to foresee the future."

 I take photographs for a living, but perhaps I have been tired of everyday life dominated by vision.
Yet, as a creator of photographs that are exposed to an audience, I am strongly determined to continue to take honest photographs that include the fragrance, the atmosphere and the invisible presence of a place.
Written by Kasane Nogawa/ Photographer Acquired an MA from the Graduate School of Art, Nihon University.
In addition to publishing photographs of mountains and nature, engages in creative activities as a member of an artist unit "kvina." Major publications include: Yama to shika (Mountains and deer) (Utrecht): Yama to shashin (Mountains and photography) (Jitsugyononihonsha).
Essay 04 "Fragrances" visible in photos: Kasane Nogawa