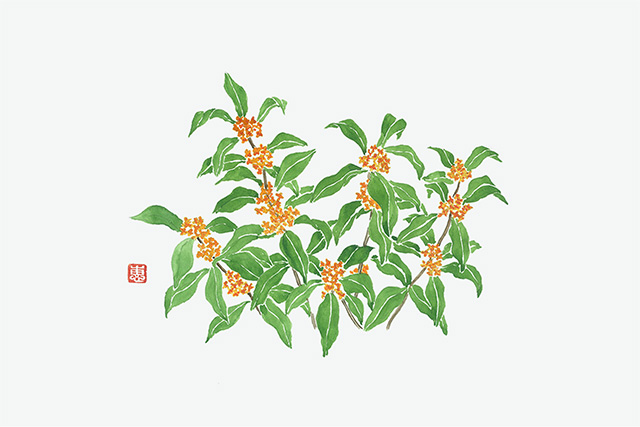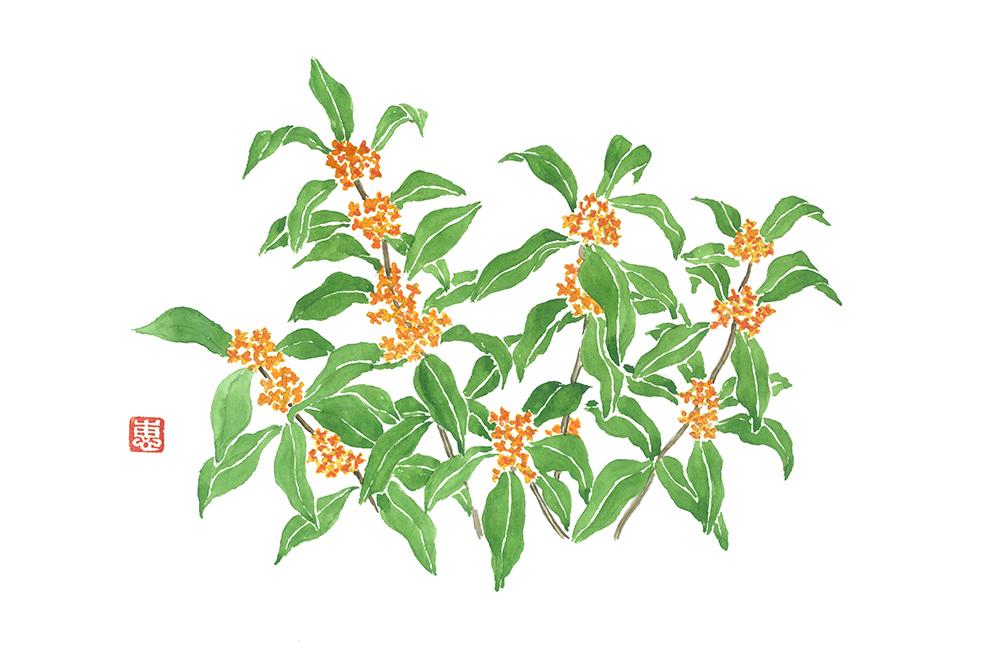 The lingering summer heat continues for quite a while these days.
It is often still dreadfully hot even after the autumn equinox.
Two years ago, on a hot day in September, I recall complaining about the heat with a taxi driver.
"I am sure it will still be hot in October."
Shocked at the driver's forecast, I seriously thought,
"Oh no. I have had enough of this heat…"
We had a number of fairly hot days in October that year.
The driver was right.
Yet, when I encounter this fragrance from late September to October, I feel,
"It's time to say goodbye to summer."
Fragrant orange tea olive flowers.
An evergreen shrub of the Osmanthus fragrans family and a variant species of the silver osthmanthus,
The sweet bewitching fragrance is exceptional.
The tree itself looking plain, they are often unnoticed until the flowers bloom.
"I had never realized that a fragrant orange tea olive tree was standing here."
Once these flowers have bloomed, summer cannot return.
It is time for summer to give up And leave it to autumn to take its course.
The fragrance of the fragrant orange tea olive possesses that strong and irresistible power.
When I lived in the center of Tokyo, the building next to my workplace was an accommodation facility owned by a government office.
The old building was surrounded by fragrant orange tea olive trees lined around the premises.
My window on the seventh floor opened out to the facility And my desk faced the window.
The fragrant orange tea olives planted next door were not to be forgotten.
I always looked forward to the time of year when they would bloom.
During the few days that they were in full bloom, I would almost feel dizzy from the strong fragrance. The strongness of the fragrance would change depending on the time of day.
When it got too overwhelming,
I would escape from my desk and work in a different room.
It was not that I disliked the fragrance.
I rather enjoyed the flowery aromatic attacks.
More than ten years after I moved to that location,
The facility was taken down, and with it the fragrant orange sweet tea trees.
Looking down at the cleared land from my balcony,
I could see patches of dark brown soil where the trees had been planted.
Now, I do not need to move around to avoid fragrance attacks.
A few years later, I moved out too.
Today, I am familiar with the fragrance of a fragrant orange sweet tea tree of another town.
The breeze carries its fragrance to tell me that autumn has arrived.
Then, I am reminded of the row of fragrant orange sweet trees that used to stand next door.
Illustrated and written by Emiko Hirano
Illustrator and essayist. Born in Shizuoka Prefecture in 1961 and raised in Yokohama. Has published many illustrations and essays on mountain hiking, travels and lifestyles.